Finally, we have the confirmation about Apple Electric iCar. Now we can prepare ourselves to the overnight rEVolution and mass market for EVs with Apple brand power behind it. We have first Trillion market cap company in the making: Apple has finally found the place where to park its cash and brilliant team of designers and engineers, its powerful branding and distribution channels will bring EVs to the masses. Low cost manufacturing base will help as well, China Yuan devaluation is very timely and you can check on my entries below about Foxconn. This largest producer of iPhones and iPads is building its own Megafactory for mass production of lithium batteries and investing almost one billion dollars in the $15k Electric Car to be produced in China.
Lithium technology is already here, I was always advocating for Apple to buy the time to market and if not buy Tesla Motors outright, than to create the strategic partnership and use Tesla Model 3 power-train. Lithium is the magic metal which is at the heart of this rEVolution. Now we have the tide coming, all cars will be electric.
I will allow myself to put a lot of links today, after writing for years about it, I will celebrate the Steve Jobs' Legacy and Electric iCar is the best tribute to such great visionary. He has inspired Gary Schellenberg and myself to start International Lithium, when electric cars like Tesla were still a dream. Now, thanks to Elon Musk, they are here! Below you can find my thoughts on why, how and when Apple will create the mass market for electric cars.
Electric cars are not just about style and incredible performance - only they can keep us the right to personal mobility without killing everything around. It is not about money or new advance economy any more - it is about survival. U.S is moving very slowly in that direction, but I just read that 16 states are trying to block Obama's Clean Power Plan. Dollar can still open a lot of doors and dirty politicians hearts (if they have any). China is not a blessing in a lot of issues, but at least "they get it" - you cannot built the new economy with Q by Q performance. You need long term plan in place. They have one: electric cars are the strategic industry now. Under the radar screens the best technology is brought into the country, the best lithium deposits are acquired and the best lithium facilities are being built. Now China controls 75% of Hydroxide Lithium, which goes in the EVs batteries.
International Lithium is working with Ganfeng Lithium, which supplies Panasonic for its cells for Tesla Motors lithium batteries and companies like BYD, Boston Power and LG Chem.

It is very tough now in junior mining space, but I am very proud that our Team has managed not only to save our projects, but is rapidly developing them. Financing and technology from Ganfeng Lithium makes all the difference for us. We are making world the better place. Enjoy your electric ride powered by Lithium and watch your kids grow to enjoy the blue sky.
We have another interesting twist to the Apple Titan project, which I believe is the development of the electric iCar. Apparently, Tim Cook was in talks with BMW to use i3 as the base for Apple iCar. Now report says that these talks are over and I think that it is for the better. I am not impressed by BMW i3 compare to Tesla. Tesla Model 3 drive must be almost ready, I guess, it will be smaller base than Tesla Model S. Apple will be much better off using Tesla power-train and battery pack, make its own design of iCar and produce it with Foxconn. Foxconn quite conveniently is investing 800 million in China in its own facility to produce electric car priced at $15k. Apple has the ability to make people pay more for its products, should they change the strategy and mass produce Apple iCar for urban fashionable crowd priced at $20k and with rage of 200 miles - the world will be theirs again. Apple will reach 1 Trillion MC and we will have the mass market for EVs overnight in historical context. How to do it? Tesla can be bought in the end, particularly if NASDAQ will take a breather and stock will go down or strategic partnership like Mercedes had before for power-trains can be done. In this case Tesla's valuation will not be an issue any more. Should we discuss the location for the next Tesla's Gigafactory already? I suggest Ireland - it is the door to the good old Europe, great tax and other government incentives and … International Lithium J/V project with Ganfeng Lithium!
We have another confirmation that Apple is very serious about its Titan project and electric iCar is in the making. This announcement will change the EVs market overnight. You can find my investigation on this rumour mill below on the links. Now London's City is paying attention and Lithium plays will be back on the radar screens - security of supply is the name of the game here. Our International Lithium is developing supply chain for this rEVolution with its strategic partner Ganfeng Lithium.
Now we have another round of rumours about Apple and its electric iCar. We are getting to the critical mass after which it will be very difficult to keep project Titan closed from public. This time it is the article in Russian - you can Google translate it.
We can see from the pre-orders of Tesla's Powerwall the brand power of Elon Musk. Can you imaging Apple brand endorsing electric iCar? As we have discussed before, Apple has all means to produce an electric iCar and is working on it. This week former
designer of Apple Watch has confirmed it again.
"What makes International Lithium different from other junior miners - access to the capital. Our very deep technical team headed by Gary Schellenberg has identified our projects at the very beginning of the lithium interest in 2008. It took us few long years to bring Ganfeng Lithium to the table. Now this giant from China is financing our J/V projects after studying for years other lithium projects all over the world. Based on the previous results we are drilling now both J/V projects with more information to come in the coming weeks. China controls now 75% of battery grade lithium hydroxide and Ganfeng Lithium is one of the major players in this market. International Lithium is building the supply chain for this vertically integrated lithium business in China. Stay turned and I welcome all our new shareholders to the very exciting new industrial rEVolution we are building our business to be the part of."
"Apple iCar rumour mill continues with Tim Cook avoiding the questions about Apple iCar and Tesla, but he has not denied it outright! Few reported patent claims are supporting the development of Apple Electric iCar now, including the wireless charging.
This is the tectonic shift for our industry, Tesla motors has started the real electric rEvolution and has demonstrated the potential of Lithium empowered technology. Apple can change the auto-industry overnight with its confirmation of Electric iCar. Tim Cook has everything he needs to bring iCar on-line very fast:
- Opened Tesla Motors patents,
- Apple brand power and loyalty from its customers,
- Foxconn - the maker of iPhones and iPads - investing hundreds of million dollars in China to produce $15k electric car,
- Number of patents supporting the Apple Electric iCar development,
- Team of engineers working on the "Titan project" with specialist from Tesla and A123 among them.
- Pile of cash which can buy Tesla Motors "few times over".
You can find The Verge article below and my earlier entries covering this exiting subject. Our International Lithium teams are on the ground in Ireland now on Avalonia Lithium project preparing new sites for drilling. In Argentina, at Mariana Lithium project we are building the mining camp to conduct the pumping test and collect the bulk lithium brine sample for testing at the research facilities of our strategic partner Ganfeng Lithium in China. Read more."
TheGuardian:
Exclusive:
Correspondence obtained by the Guardian shows Project Titan is further along than many suspected and company is scouting for test locations
In May, engineers from Apple's secretive Special Project group met with officials from GoMentum Station, a 2,100-acre former naval base near San Francisco that is being turned into a high-security testing ground for autonomous vehicles.
In correspondence obtained by the Guardian under a public records act request, Apple engineer Frank Fearon wrote: "We would ... like to get an understanding of timing and availability for the space, and how we would need to coordinate around other parties who would be using [it]."
Apple declined to comment.
This security is bound to appeal to Apple, which has hundreds of engineers quietly working on automotive technologies in an anonymous office building in Sunnyvale, four miles from its main campus in Cupertino. Details of the project are still unknown but it seems that Apple has a self-driving car almost ready for the road. In late May, Jack Hall, program manager for autonomous vehicles at GoMentum Station, wrote to Fearon to postpone a tour of the facility but noted: "We would still like to meet in order to keep everything moving and to meet your testing schedule."
Cook has met with Fiat-Chrysler boss Sergio Marchionne and may have toured BMW's i3 electric car assembly line in Germany last year. The company has also been recruiting automotive experts from Silicon Valley and beyond, hiring engineers from Tesla Motors and Mercedes-Benz, as well as power experts from electric car battery maker A123 Systems. Fearon previously worked on an innovative electric motorbike at Silicon Valley start-up Lit Motors, and helped to build an autonomous robotic paraglider while studying at Georgia Institute of Technology.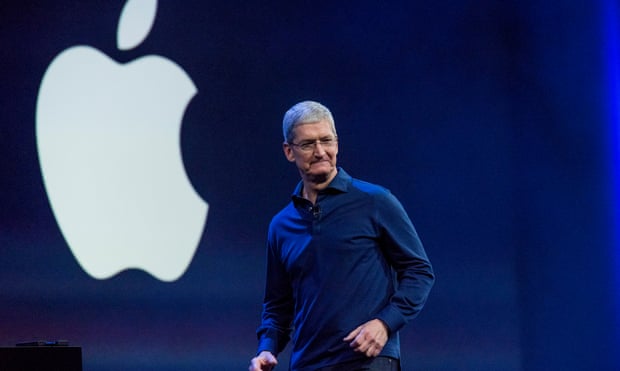 When Fearon approached GoMentum Station, he wrote: "We are hoping to see a presentation on the ... testing grounds with a layout, photos, and a description of how the various areas of the grounds could be used." GoMentum Station's empty roads feature everything from highway overpasses and railway crossings to tunnels and cattle grids. These would enable Apple to test vehicles in a variety of realistic everyday situations but without exposing it to scrutiny.
"We had to sign a non-disclosure agreement with Apple," says Randy Iwasaki, executive director of the Contra Costa Transportation Authority, owner of GoMentum Station. "We can't tell you anything other than they've come in and they're interested."
Apple's obsession with secrecy even extends internally. While one of the engineers corresponding with GoMentum Station admits to belonging to Apple's Special Projects group, Fearon signs his emails with a cryptic question mark icon. However, documents seen by the Guardian reveal that Apple's automotive team is housed in a low-profile building several miles from the company's glamorous new Cupertino campus, which is currently under construction.
The Sunnyvale building was leased in 2014, and was subsequently modified by Apple to include several lab and workshop spaces, as well as beefed-up security and access card readers, city permits show. "GoMentum Station is 40 miles north of Silicon Valley," says Iwasaki. "And there's not a lot of vacant space in the Valley if you want to do testing in a secure location. We're close enough that companies can bring their vehicles north, store them in the Concord area and bring their software and hardware engineers up."
Google and other car makers have visited GoMentum Station with a view to trialling driverless cars there, although so far only Honda has signed a $250,000 memorandum of understanding with the facility to begin testing. The Japanese automaker plans to use self-driving versions of its RLX saloon to accelerate the development of automated and connected vehicle technologies far from prying eyes.
However, when engineers from Tesla Motors tried to tour GoMentum Station in April, armed soldiers at the base refused entry to foreign-born workers and a manager who would not divulge his social security number. "At this point, I'll retract our interest in this test site until the process is worked out," he huffed in an email to GoMentum Station's Jack Hall.
Such high security might not suit all carmakers, but Apple should feel right at home."