Finally, the great people of Argentina can get properly back to business. Removed uncertainty will provide a further
boost to valuations of all companies involved in Argentina.
Argentina can become the real Power House of the Energy rEVolution now. Tesla is better to hurry and build its Gigafactory in Argentina soon when it can still
secure lithium supply directly from the production in Argentina.
McEwen Mining has released a very impressive new PEA on giant Los Azules Copper project located in San Juan, Argentina. Please note all disclaimers and that all this information is from public sources released by McEwen Mining. TNR Gold holds 0.36% NSR royalty on the entire Los Azules project. Rob McEwen has done a great job and Los Azules Copper now is even larger than before:
New Resources in all categories reported by McEwen Mining:
1. Copper is up from 19B lb to 29.5B lb - plus 55%
2. Gold is up from 3.42B Moz to 5.5B Moz - plus 61%
3. Silver is up from 108.7 Moz to 191.1 Moz - plus 76%
The quality of resource has improved as well, according to McEwen Mining:
Copper before was 28% Indicated to Inferred
Copper now is 53% Indicated to Inferred.
$2.2 Billion After-Tax NPV@8% and IRR of 20.1%
3.6 Year Payback at $3.00/lb. Copper and 36 Year Mine Life
415 Million lbs. Average Annual Copper Production For The First 10 Years
$1.11/lb. Copper Average Cash Production Cost (C1) For First 10 Years
Please Note that TNR Gold Qualified Person - as it is defined by NI 43-101, was NOT able to Verify and Confirm Any Provided Information by The Third Parties in the Articles, News Releases or on the Links embedded in this article; you must NOT rely in any sense on any of this information in order to make any Resource or Value Calculation, or attribute any particular Value or Price Target to any Discussed Securities.
TNR, through its lead generator business model, has been successful in generating high quality exploration projects in the Americas and Europe. With the Company's expertise, resources and industry network, it identified the potential of the Los Azules copper project in Argentina and now holds a 0.36% NSR Royalty on the prospect.
TNR is a major shareholder of International Lithium Corp.
(TSXV:ILC) ("ILC"), a green energy metals company that was created through the spinout of TNR's energy metals portfolio in 2011. ILC holds interests in lithium projects in Argentina, Ireland and Canada. TNR continues to hold approximately 15% of the outstanding shares of ILC.
TNR retains a 1.8% NSR Royalty on ILC's Mariana lithium property in Argentina. ILC maintains a right to repurchase 1.0% of the NSR on the Mariana property. The Company would receive $900,000 on exercise of the repurchase right. The project is being advanced in a joint venture between ILC and Ganfeng Lithium International Co. Ltd., a leading lithium product manufacturer seeking to secure its raw materials supply. Read more.
"We consider this report very encouraging news for the advancement of our Mariana Lithium JV Project," commented Kirill Klip, Executive Chairman of ILC.
LEGAL DISCLAIMER
BBC:
Argentina's centre-right governing coalition has won a sweeping victory in mid-term congressional elections.
The result will strengthen President Mauricio Macri's position as he seeks to complete his pro-market reforms.
He told supporters that they had shown it was possible to change the history of Argentina.
Former left-wing President Cristina Fernández de Kirchner secured a seat in the Senate, giving her immunity from corruption charges.
The vote was seen as a referendum on Mr Macri, who has worked to implement economic reforms he says are crucial to restore the country's economy.
His Cambiemos (Let's Change) movement won in 13 of Argentina's 23 provinces, including the five biggest population areas, official results showed. Despite the gains, he fell short of an overall majority in congress.
"We realised that many things can change, we realised that we could, we were encouraged by change, we overcame fear and resignation and reality accompanied us and is accompanying us," said Mr Macri, who is expected to run for re-election in 2019.
More than 33 million Argentines were eligible to take part in the vote, which saw a third of seats in the Senate contested, along with half of those in the lower house of congress.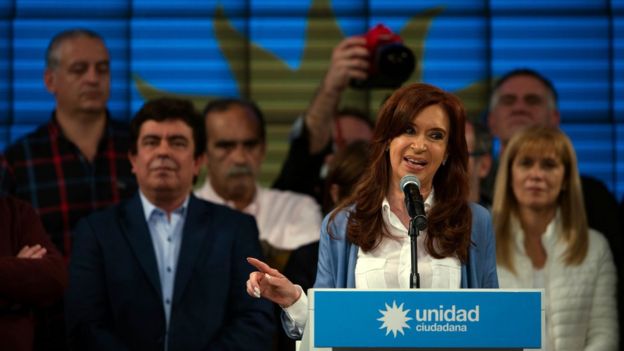 Ms Fernández, who governed the country from 2007 to 2015, came in a distant second in the race in the province of Buenos Aires, the country's most populous.
Despite not coming first, she secured enough votes to make it into the Senate.
She thanked voters saying her party Citizen's Unity would remain a firm opposition to Mr Macri's economic agenda.
The ex-president, who
faces corruption charges
, still enjoys support among millions of low-income Argentines who benefited from her generous social spending. But critics say her populist policies damaged the economy.
She denies any wrongdoing saying the accusations are politically motivated.