All cars will be electric and the rest is history!
Today I have the opportunity to share with you, finally, the very good news which all our International Lithium Team was working very hard to deliver. It is one of many more to come and a very small token of appreciation of the value that we all have managed to build despite of the total massacre in the junior mining.
We have found new very strong partners who is sharing our vision of the future. This future is already here, it is just unfortunate that not everybody has it noticed. All cars will be electric. Lithium is the magic metal at the very heart of this rEVolution.
International Lithium is plugged into this Next Big Thing with our Team, Projects and Strategic Partners. Now the tide is coming: we have the beautiful boat, very strong Crew seasoned by the storms and today we are putting up our sails.
We are making our financing at the more than double premium to our market price just one month ago: at 8 cents vs 2.5 cents low in August. Any journey is full of uncertainties and risks; and it is always safer to stay on shore. Please read carefully all our legal disclaimers.
Nothing is for certain apart from death and taxes in this world, but we know how to navigate once we are at sea. And today I am pleased to share with you our destination:
I have written extensively about International Lithium and our strategic partner Ganfeng Lithium. Our J/Vs in Argentina and Ireland are financed by this giant from China and we have very important access to the technology. Basically we are building the secure supply chain for Ganfeng Lithium using their expertise in raw materials needed for production of battery grade lithium from the very beginning. Our brine bulk sample from Mariana is being tested at Ganfeng state-of-the-art R&D facilities in China and in Ireland we have identified 22 exploration targets. Now, according to our latest NR, we are waiting for the approval of the budgets for both projects to be rapidly advanced after very encouraging results were received from the last exploration stage this year.
Today I would like to show you another side of International Lithium. We have the very strong technical team headed by our CEO Gary Schellenberg. Anthony Kovac - our COO and John Harrop - our VP of Exploration are among very few top level exploration managers and geologists in lithium sector. This Team depth has allowed International lithium to attract Ganfeng and strike two major J/V deals in all our industry. These days we are getting the first fruits of this very hard work. Coming volume shows that market is waking up and we are receiving at least some recognition of the value we have been building all these years.
I am talking a lot about the security of lithium supply and Tesla Lithium Hydroxide Supply Deal is another proof and was noticed by market overnight. Now venture capital is knocking on all doors chasing the upstream supply chain for electric cars and Energy rEVolution.
We have another great project at International Lithium: Mavis Lake Lithium And Tantalum Project which is located in mining friendly Canada in the area with excellent infrastructure and very encouraging initial exploration results with high grade Lithium and Tantalum. It will be our next strategic advance for the company. With J/Vs moving forward we are looking for the strong Strategic Partner to develop this project for the potential supply of this strategic commodity for the ongoing Next Industrial rEVolution. West will wake up one day to the fact that China has managed to control now not only over 90% of REE production, but 75% of Battery Grade Lithium Hydroxide as well.
Security of Supply means exactly this - Security. When the price is taking the second consideration and availability of critical materials is taking the central stage. My personal mission is to make this Security happen for the Western world for real as well, even if this part of the World still lives by HFT rules and Q by Q performance reflecting the coming bonuses. Our Asian friends are beating us all here with the state-level plans looking for The Next Fifty Years and building new strategic industries like Electric Cars in China.
We have Elon Musk, we need more like him, but it is a very good start. Our strategic partner for Mavis Lake is waiting somewhere in between of latest Q performance reviews. If you know the one - you know whom to call. Now I do not have really to explain any more What Is Lithium For - Elon Musk has made the great job and every single Tesla Model S is the best moving ad of the things to come. All cars will be electric and it will be very soon. And by the way any new hard rock mine for Lithium will take 5-7 years to build Lithium brine operations will take 4-5 years at best.
Why International Lithium? You can check presentation above.
Read more.
IB Times:
Porsche Mission E: Tesla-rivalling Electric Car Revealed With 600bhp And 15-minute Charge Time.
Porsche has Tesla in its sights with a 600 horsepower all-electric car which has a range of 330 miles, charges to 80% in just 15 minutes, and is said to be as important to the brand as the original 911 was 50 years ago. Called the Mission E, the new car is hoped to go on sale by the end of the decade.
Revealed at the Frankfurt motor show, the Porsche Mission E is a four-door, four-seater which shares a passing resemblance to the company's Panamera saloon car and the Carmen sports car. The latter section of the market is where Porsche hopes the Mission E will appear, as unlike Tesla, the company is keen to show off the car's handling as well as its straight line performance.
Porsche claims the Mission E can, according to computer simulations, lap the 14-mile Nurburgring in under eight minutes, a similar time to the Caymen S. With an electric motor powering each axle, the two-tonne car can sprint to 60mph in 3.5 seconds – only 0.1 shy of the company's flagship 911 Turbo – and to 125mph in less than 12 seconds. The Mission E is slightly shorter and less tall than the Tesla Model S, but is wider.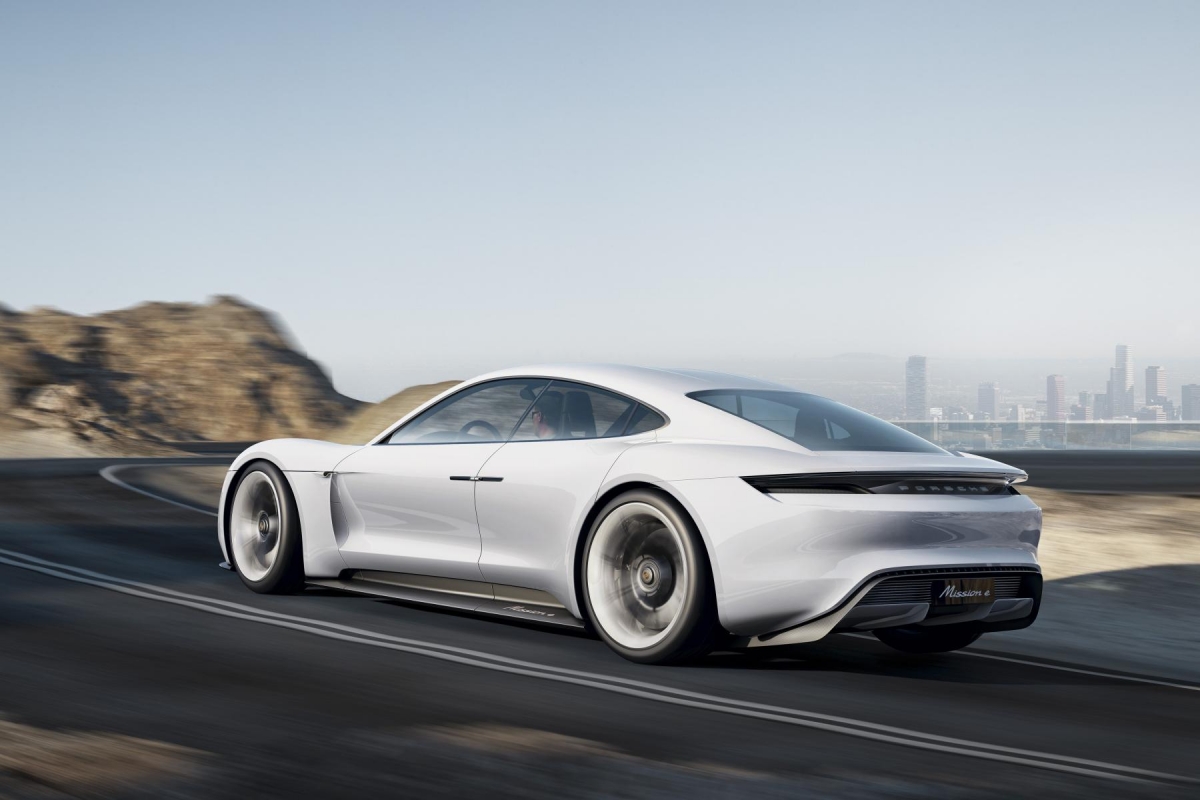 The car delivers most of its power to the rear wheels and only brings the front axle into play under hard acceleration or slippery conditions. Torque vectoring splits power between the two rear wheels, helping to eliminate slip and improve mid-corner balance. Porsche says the Mission E will be a "typically rear biased" car, but hasn't said exactly how power will be split between the two motors.
'We are deadly serious...this is not just a concept'
Wolfgang Hatz, head of research and development at Porsche, said the company is "deadly serious about this car". He explained: "It is not just a concept, but a clear look at the future of Porsche. The implications to the brand are as important as those when the 911 was created over 50 years ago."
But despite the headline performance figures and numerous links to technology used by the 2015 Le Mans-winning 919 Hybrid, the Mission E's claimed charging time is perhaps Porsche's most impressive claim. It says the car will recharge by 80% – giving a range of 264 miles – in just 15 minutes, almost three times faster than the Tesla Model S.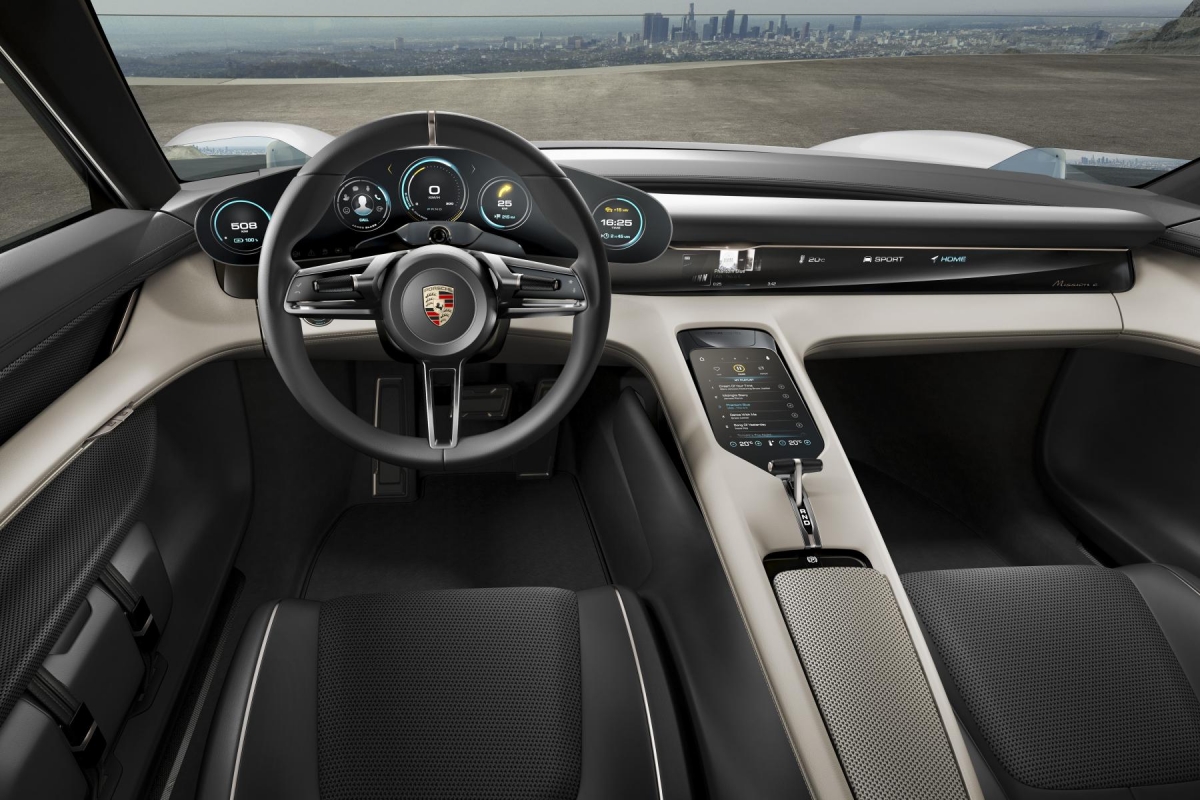 Porsche is using an 800 volt recharge system, twice that of Tesla's Supercharger network, plus the Mission E can be charged by 400 volt systems and domestic chargers installed in owners' homes. Better still, Porsche says the Mission E can be charged wirelessly on home chargers, with the driver simply parking over a coil installed in the floor of their garage.
An interior as futuristic as the exterior
Inside, Porsche has installed an OLED instrument cluster behind the steering wheel, with each dial appearing in a different place depending on how the owner wants to drive – a speedo and lap timer would appear front and centre when driving on track, for example. The Mission E borrows a visual trick from the iPhone's home screen called parallax effect – where the app icons float around in front of your wallpaper when you move the phone. This means the 3D instrument display moves to follow the driver's stance and seating position, eliminating occasions when instruments are blocked by the steering wheel.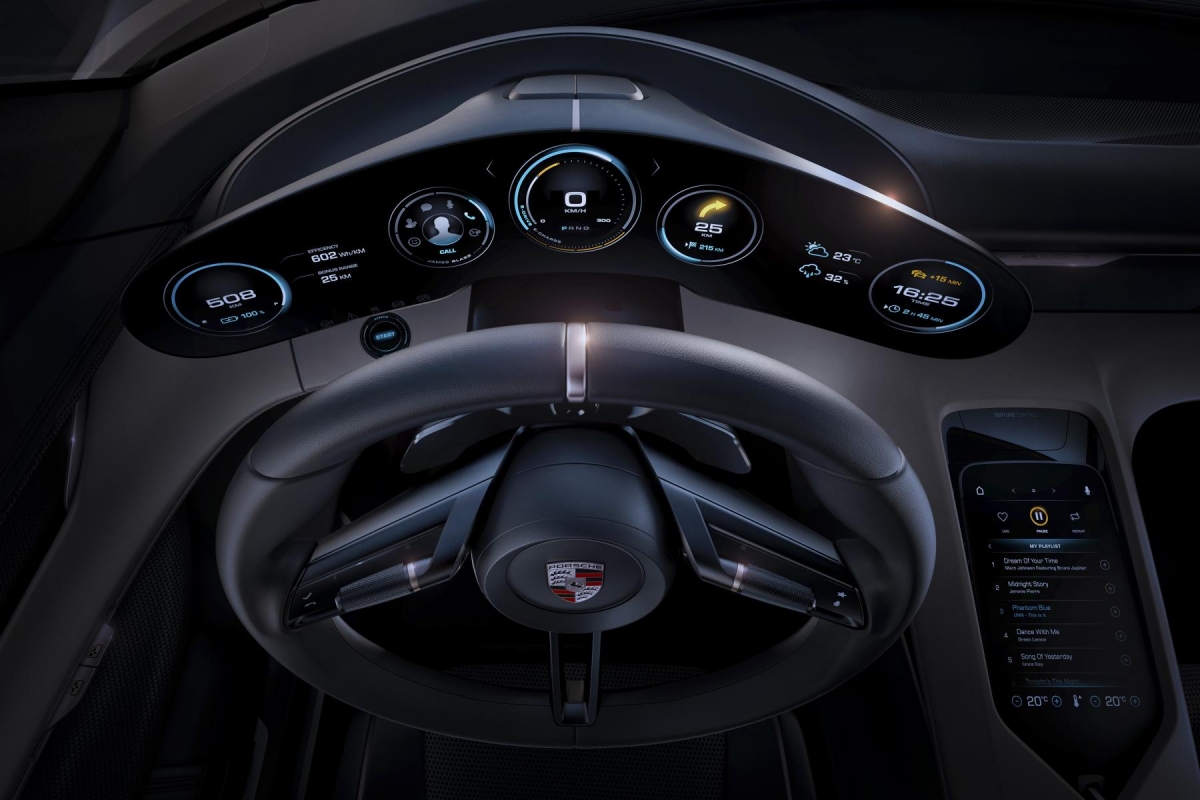 An eye-tracking camera knows which dial or instrument panel the driver is looking at. When they press a button on the steering wheel the car knows to open up a sub-menu relevant to the dial the driver was looking at when he pressed the button. In a move which follows the new BMW 7-Series, the E Mission's secondary functions can be controlled with hand gestures. A grasp of the hand means select, for example. Other gestures will likely be used to control the music volume and what song is playing.
Porsche has not mentioned a price for the Mission E, but we can expect it to cost around the same as the Tesla Model S, which tops out at just over £100,000."