Here we go … AUTO BUILD in Germany reports:
"Even BMW diesel exceeds emission limits significantly. Poisonous nitrogen oxides of the BMW X3 xDrive 20d exceed noisy road test of the ICCT the Euro 6 limit by more than 11 times."
Now the real economics will work for EVs. The real deal with VolswagenGate is that Cheap, Powerful and Clean are NOT about any of the ICE car any more whether its is Diesel or Petrol. Would you like to buy Porsche performance, but pay Toyota price? They are coming: Electric Cars are just better.
Now who will, finally, start the FrackingGate?
Tony Seba gives another brilliant presentation on Clean Energy and Transportation Disruption. Do you now that the world was facing unsolvable "Horse Manure Crisis"? It was back in 1880 and apparently we have survived, but it was the Climate Change of the day in the past. There were even "Horse Manure Crisis" deniers. This crisis was solved not by "Clean Poop" or "Manure Capture and Storage". It was not "Fracking Manure" or even "Biofuel-poop" - just think what Energy Industry is selling you today. It wasn't solved by government "targets" of 30% less manure in 20 years! It was solved by two disruptive technologies: automobile and electric streetcar.
Today we are facing the crisis of our time - Climate Change and we now even have the Clean Power Plan to address it. New disruptive technologies will change completely our Transportation and Energy. Lithium technology allows us to store energy very efficiently and electric cars will take our streets over. Just look at Tesla Model S and wait for Model X and Model 3 to ignite the mass market in EVs. Solar will power our houses and EVs and lithium batteries for Home Energy Storage will make it work 24/7.
Watch video.
The short answer: All cars will be electric and the rest is history. If you like some details you are welcome! Nobody knows the future. We can only speculate and try to extrapolate the existing trends into the future. I would like to remind you that all expressed opinions on this blog are my personal ones and do not reflect the official position of any companies I am involved with.
Actually, I do not have anything against oil and, particularly, those hardworking women and men who were powering our technological progress for a little bit more than one hundred years. I just hate to pay so much for my petrol - guilty, I like Big and Powerful cars. Particularly I hate that this money is going to pay for Wars and provide dirty politicians which are bathing in oil denying the climate change. And I hate that my own money will pay for the use of One Hundred Years Old Technology based on controlled explosions of Dinosaurs Poop with less than 35% efficiency: heating everything around it and chocking us all with deadly air pollution. But not for long, Elon Musk has changed everything - I can get my Big and Powerful car from Tesla now. Read more.
AUTO BUILD: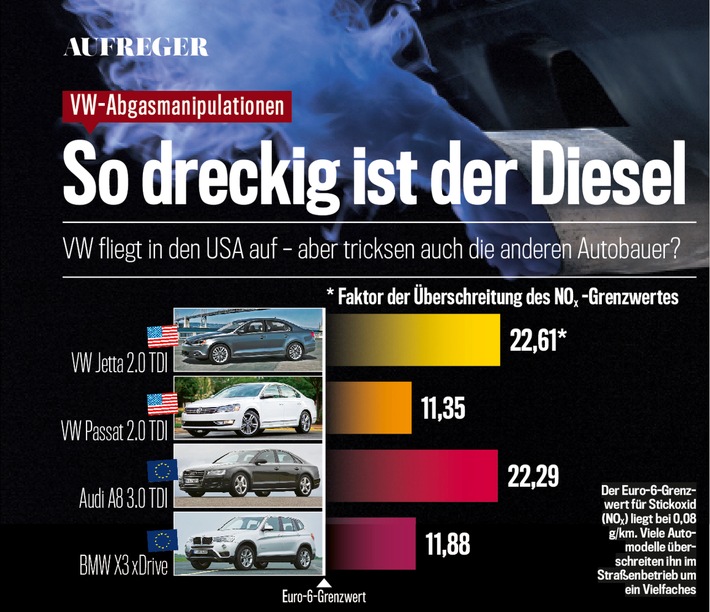 Hamburg (ots) - Giftige Stickoxide des BMW X3 xDrive 20d übersteigen laut Straßentest des ICCT den Euro-6-Grenzwert um mehr als das 11-fache
VW steht derzeit wegen systematischer Abgasmanipulationen an seinen Diesel-Fahrzeugen in den USA am Pranger. Aber tricksen auch andere Autobauer? Wie die Fachzeitschrift AUTO BILD für ihre aktuelle Ausgabe 39/2015 (EVT: 25.9.2015) exklusiv erfuhr, ist VW nicht der einzige Autohersteller, dessen Fahrzeuge auffällige Stickoxid-Werte produzieren. Auch der BMW X3 xDrive 20d hat bei Straßentests des International Council on Clean Transportation (ICCT) die europäische Abgasnorm (Euro-6-Grenzwert) um mehr als das 11-fache überschritten. Damit schneidet der Wagen noch schlechter ab als der von der US-Umweltbehörde EPA beanstandete VW Passat. "Alle Messdaten deuten darauf hin, dass das kein VW-spezifisches Problem ist", sagt Peter Mock vom ICCT. Bei Tests seines Instituts hatten die VW-Fahrzeuge den Euro-6-Grenzwert für das giftige Stickoxid (NOx) im Schnitt um mehr als das 22-fache überstiegen - die US-Umweltbehörde EPA ermittelte.
"Ob auch andere Hersteller außer VW eine Schummel-Software nutzen, wird sich noch zeigen", sagt AUTO BILD-Mitarbeiter Benjamin Gehrs. Ein BMW-Sprecher äußerte sich auf die Anfrage von AUTO BILD, ob BMW bei Prüfstandsmessungen andere Motorkalibrierungen verwende als auf der Straße, wie folgt: "Es gibt bei BMW keine Funktion zur Erkennung von Abgaszyklen. Alle Abgassysteme bleiben auch außerhalb des Abgaszyklus aktiv."
Von europäischen Behörden habe es laut ICCT-Experten Mock bislang keine Nachfragen zu den auffälligen Ergebnissen des NOx-Tests gegeben. Derweil hat Bundesverkehrsminister Alexander Dobrindt (CSU) das Kraftfahrt-Bundesamt beauftragt, alle VW-Dieselmodelle zu überprüfen. "Von Dieselfahrzeugen anderer Hersteller - oder auch nur anderer VW-Konzern-Marken - war dabei allerdings nicht die Rede", so Benjamin Gehrs.
Den Artikel "VW-Abgasmanipulationen - So dreckig ist der Diesel" lesen Sie in der aktuellen Ausgabe 39/2015 von AUTO BILD, die am 25. September 2015 erscheint. AUTO BILD im Internet:
www.autobild.de
Abdruck mit Quellenangabe "AUTO BILD" honorarfrei / Bildrechte AUTO BILD
Über AUTO BILD:
AUTO BILD, Europas größte Autozeitschrift, präsentiert jeden Freitag die ganze Welt des Autos: Modelle von Morgen, umfangreiche Tests und Technik-Analysen, spannende Reportagen und viele Servicethemen. Dazu gehören große Neu- und Gebrauchtwagenvergleiche, Werkstatt- und Reifentests, das Aufdecken von Fehlern und Schwachstellen und natürlich die Faszination des Fahrens. Mit präzisen Testmethoden und aufwendigen Hintergrund-Recherchen ist AUTO BILD Woche für Woche die Auto-Instanz für Millionen von Autofahrern.
Pressekontakt:
Redaktion 
Benjamin Gehrs 
Telefon: (040) - 347 29143 
E-Mail: benjamin.gehrs@autobild.de

Agentur
Martina Warning
John Warning Corporate Communications GmbH
Telefon: (040) - 533 088 80
E-Mail: m.warning@johnwarning.de"